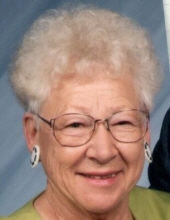 Obituary for Grace B. Wells
Grace Bernice Hansen, a long time resident of Long Prairie, MN, died Thursday, June 8th, 2017 at the Long Prairie Memorial Nursing Home, at the age of 89. Burial was in the Trinity Lutheran Cemetery on Monday, June 12th at 2:00 pm.
Grace was born in 1928 in McGrath, MN to Ella (Schoenrock) and Jorgen Hansen. She married Clayton Wells in 1948, and they lived in St. Paul, Shoreview, Osakis and Long Prairie, MN. They had five children, nine grandchildren, and four great grandchildren.
She is survived by her children: Steven (Gail), Bonita, Gordon (Kate), Joyce (Anton), and Joel (Laurie). Grandchildren: Melissa, Tina (Anthony), Michael, Jessica, Zachary (Mandy), Amanda, Allison, Amelia, and Joshua. Great grandchildren: Andrew, James, Madeline, Mason, and one more coming soon.
She was preceded in death by her husband Clayton, her parents Jorgen and Ella, and her siblings: Violet (and Richard) Jones, Carrol (and Dorothy) Hansen, and Donald Hansen.
Special thanks go to the amazing staff that cared for Grace at the Long Prairie Memorial Nursing Home.
Williams Dingmann Family Funeral Home, Long Prairie, MN has been entrusted with arrangements.
Cemetery Details
Location
Trinity Lutheran Cemetery - Long Prairie
Long Prairie
Long Prairie, MN